9 tags
TASTY TUESDAYS // Tabbouleh with Fruit
Summer is headed our way and we are looking for healthy recipes that are F R E S H to kick up our heels and enjoy by the beach!  What better way to celebrate this summery weather than with an easy no-cook, berry-filled tabbouleh recipe that's good for your cognitive function, heart health, and helps prevent cancer! Ingredients 1 cup orange juice 1/2 cup medium-grain bulgur 1 large tomato,...
8 tags
13 tags
It's Personal // Laura Milstead
Today we honor recent breast cancer survivor, Laura Milstead and how she's giving back to her fellow survivor community. Laura shares our compassion to support the breast cancer community through nature-based wellness experiences that enhance a survivor's path of healing and long-term survivorship; and she's doing just that through a Yosemite Wellness Retreat,   May 17-19. As a part of the B4BC...
2 tags
8 tags
B4BC 4 MEGS // THANK YOU
We are so humbled and inspired by this community and your support of the recent B4BC 4 MEGS event and fundraiser.  THANK YOU to Merlin's, the town of Whistler, partners, friends, volunteers and all that have donated to and supported Megan Pischke.  You answered the call and because of you over $50,000 was raised for her cancer treatment and wellness plan!  Please have a look at the video...
PAUSE FOR PREVENTION // Food Swaps Good for You...
We just can't get enough of Earth Week, and for this Wednesday's Pause for Prevention we want to highlight 6 easy food swaps that are good for you AND good for the earth!   At least a few of these apply to everyone, so count yourself in and get swappin'.   #healthyearth #healthyyou! 1.  Swap Conventional Tomatoes For Organic There's research to support bothsides of the...
4 tags
TASTY TUESDAYS // Lentil Harvest Salad
So let's talk about lentils.   Not only are they D E L I S H, but with their nutty flavor and hearty texture, fiber-filled lentils are an easy way to boost the health benefits of this simple grilled salad. Along with fiber, lentils also offer a generous helping of folate and magnesium – all nutrients that promote heart health. Whether you serve this dish as a main course or as a complement,...
8 tags
EARTH DAY // HEALTHY EARTH, HEALTHY YOU
Happy Earth Day friends! Always remember to take time to enjoy and care for what the Earth offers us, all areflection of ourselves!
12 tags
SHRED THE LOVE // SUGAR BOWL
This year, Lake Tahoe did Shred the Love in a big way!  Being the 6th annual Shred the Love at Sugar Bowl, we decided to expand the series throughout Lake Tahoe by having five events in 7 days. The events, including rail jams, yoga sessions, skate and BMX sessions and more all promoted a healthy active lifestyle, focusing on the mind, body and soul as the best prevention.  Friday March 29th...
15 tags
COMMUNITY SPOTLIGHT // Thank You UCLA Snow Team
We want to extend a shout out of THANKS to the UCLA Snow Team for hosting their annual B4BC fundraiser earlier this week in Westwood, CA. This year's event marked a decade of support from the Bruin Shredders, with current members & alumni coming out in full force to support B4BC! Also, many thanks to our partners The North Face, Nixon, Von Zipper, Bonfire, & Electric for providing product...
5 tags
TASTY TUESDAYS // Pan Roasted Asparagus
Today, we asparagus!  Asparagus is not only low in calories, but it's also high in folic acid, vitamins A, B6 and C, calcium, iron, thiamin, potassium and fiber, as well as the antioxidant glutathione.  We're really not seeing any negatives here.   Ingredients 1 tablespoon unsalted butter
 ¾ pound large asparagus, white fibrous bottoms discarded
 1 medium garlic clove, peeled and...
7 tags
B4BC GEAR // PURA VIDA BRACELETS
We are SO excited to announce our newest partnership with Pura Vida, who created this custom bracelet benefiting B4BC! They are 100% waterproof, so they wont stop you from shredding the love with us while you're surfing or snowboarding.  Get one here: http://puravidabracelets.com/boarding-4-breast-cancer.html
4 tags
B4BC 4 MEGS // A personal thank you from Megs
A personal message from B4BC Wellness Ambassador and Pro Snowboarder Megan Pischke, in response to the outpouring of love and donations she has received after publicly announcing that she is currently battling breast cancer.  Learn more about her battle and upcoming event, and/or donate here: www.stayclassy.org/b4bc4megs Wow…HAPPY SPRING! HAPPY REBIRTH AND NEWNESS EVERYWHERE!  You...
11 tags
PAUSE FOR PREVENTION // Hormone Disruptors
In case you missed it: Dateline NBC aired a great segment this week on toxic chemicals and hormone disruptors in our homes and everyday objects. The clip shows NBC News' Andrea Canning raise and lower her body levels of thalates, triclosan and BPA, which are linked to breast cancer, by modifying the lotions, make-up, soap, plastic containers and canned foods she used in a 24 hour period. ...
11 tags
TASTY TUESDAYS // Baja Grilled Halibut Tacos
Photo: www.soudersstudios.com Today, we want to add a little Taco Tuesday to our Tasty Tuesday.  Get your taco fix in a fresh and easy way that wont break the bank.  Add lime and sunny Mexican beach to taste.   Lean fish like Halibut is a great way to get in some protein while still being healthy.  We recommend making your own avocado salsa with organic avocados and tomatoes to help keep it...
TASTY TUESDAYS // SPRING MEDLEY
This week for Tasty Tuesday, we're getting all pumped up for spring festivities and Easter inspired treats!  Since chocolate bunnies and creme filled eggs will be reigning supreme this weekend, here are a couple recipes with greens and protein to help round out your sugar high.  And did you see those chick eggs? They're really freakin' cute.  Spring Greens With Pears, Sugared...
4 tags
It's Personal for Megan Pischke
It's Personal for Megan Pischke As you may or may not know, Megs has been involved with B4BC for over 10 years. Beyond raising awareness, and inspiring others to lead a healthy, preventative lifestyle, she has worked towards raising funds for breast cancer survivors to attend her "ReTreat Yourself" wellness retreats for nearly 7 years. Ironically enough, Megs was diagnosed with breast...
6 tags
TASTY TUESDAYS // THAI CITRUS TOFU KEBABS
Photo: www.shape.com Spring has sprung, and these healthy, citrusy veggie kebabs have the perfect kick for a celebration, or, ya know, lunch.  Because who doesn't love a kebab? INGREDIENTS             1/3 cup low-sodium soy sauce             1/4 cup fresh orange juice             1/4 cup fresh lime juice             1 tablespoon honey             1 tablespoon minced...
TASTY TUESDAYS // STUFFED SWEET POTATOES
Photo: www.gourmandeinthekitchen.com Sweet potatoes are sweet.  And easy.  And a "Super Food."  So why not stuff them with other delicious things and call it a day? Sweet potatoes are rich in antioxidants, minerals, fiber and vitamins like beta carotene and Vitamin A which are great for your immune system, skin, vision, bones, and fighting cancer.   Ingredients 2 medium red skinned...
9 tags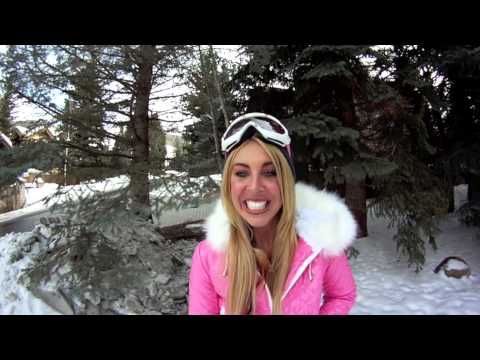 10 tags
Watch
SHRED THE LOVE // HOLIDAY VALLEY  Holiday Valley Resort, together with The Boardroom Snowboard Shop, hosted its 5th annual board-a-thon event to benefit Boarding For Breast Cancer and the Buffalo area's Women's Oncology Program at Camp Good Days and it was A M A Z I N G! The cozy resort town in Ellicottville, NY has a lot to offer, including a tight-knit sense of community and a passion for...
6 tags
PAUSE FOR PREVENTION // Eating On The Go?
Our educational booth is on the road close to 100 days out of the year. Being on the road means eating on the go, which can easily lead too some pretty gnarly dietary choices.  So our Pause For Prevention tip this week is to BE PREPARED! Whether you're traveling or have a jam-packed work/life schedule be prepared by starting to plan & pack healthy snack options to get you through the day....
6 tags
SHRED THE LOVE // WATERVILLE VALLEY
Big thanks to our friends at Waterville Valley Resort in New Hampshire, for their "Super Sunday" Shred the Love event on February 3rd, which raised over $5,500, all due in part to the tremendous generosity of the Waterville Valley community, and this year's participants. A special thank you to Kelsey Chaon, Elizabeth Klein, the wonderful volunteers, and the entire staff at Waterville...
8 tags
TASTY TUESDAY // QUINOA & KALE PATTIES
Photo credit: www.yummysupper.blogspot.com Want to know the most delicious way to combine super-nutritious quinoa and kale to make something radical for your taste buds?  Well, this is it.  Mostly because we like anything that has cancer-fighting nutrients and that you can put an avocado on top of. Plus quinoa is, like, really good for you.  It's not a grain or cereal, but instead...
TASTY TUESDAY // SKINNY STUFFED ARTICHOKES
Photo credit: www.shape.com Artichokes are in season and they are jam-packed with cancer-fighting flavanoids and antioxidants for a delicious snack that you can feel good about.  So eat your (artichoke) heart out. Ingredients 4 Large artichokes 2 Lemons: 1 cut in half, 1 juiced 2/3 c Bulgur 1 clv Garlic, minced 1 ½ Low sodium vegetable broth 2 Medium carrots, finely grated 2 c Spinach,...
7 tags
TASTY TUESDAY // Valentine's Day Red Wine...
photo credit: www.wholefoodsmarket.com VALENTINE'S DAY RED WINE STRAWBERRIES AND CREAM These spiced, red-wine-infused strawberries are a perfect Valentine's sweet for when those candy hearts are saying all the wrong things and flowers just aren't cutting it.   Get your fix with flavanoid-rich red wine and antioxidant-packed strawberries this year, and you can even let a date...
5 tags
TASTY TUESDAY // Blueberry & Almond Butter Toast
Photo cred: thesetingstaketime.com What better way to start off your morning than with a burst of antioxidant filled berries?   Of all the fruits and vegetables studied, berries consistently rank among the most likely to reduce cancer risk, especially raspberries, cranberries and blueberries. So (almond) butter up some toast and Chew. On. That. Every year, we learn more and more about...
PAUSE FOR PREVENTION // ELENA HIGHT x REPREVE
We had the most amazing time at X Games Aspen this past week, and we were so proud and excited for our team rider Elena Hight for making X Games history as the first woman to land a double backside alley-oop rodeo!  While she wasn't busy making history, Elena was also the brand ambassador for Repreve, the recycling partner of X Games Aspen!  Not only are they helping to create a healthier...
3 tags
TASTY TUESDAYS // GREEN MACHINE
Photo: Howtodoit.com Just because it's winter, it doesn't mean its the end of refreshing, healthy smoothies to keep your energy up and give you the perfect kick for a day of shredding knee-deep pow! Throw these ingredients in a blender for a quick and nutritious morning treat, subbing in fruits for whatever is in season! Ingredients: 1/2 cup frozen peaches 1/2 cup frozen...
15 tags
B4BC GEAR // B4BC at AGENDA 2013!
This past weekend was the Agenda Trade Show, a place for all the brands in action sports, big and small, to show off their new goods for the next year!  We got to stop by the booths of some of our amazing partners to see what they've been up to and all the new B4BC collabs and goodies they have to show off. VonZipper was showcasing the brand spankin' new B4BC collab goggles at their...
12 DAYS OF GIVING // DONATE
DAY 12:  We've reached the last Day of Giving with B4BC!!  Along with the last 11 cobranded partner products we've highlighted, we'd like to highlight B4BC's very own Survivorship Fund that you can donate to this season to help award breast cancer survivors with scholarships for wellness based retreats.  If you haven't gotten someone a present yet, or if you are still looking for that cause to...
7 tags
12 DAYS OF GIVING // NSP
NSP x B4BC Surf Betty line NSP x B4BC SUP line DAY 10: On the 10th Day of Giving B4BC gave to me…the NSP Surf Betty shortboard line AND the NSP B4BC stand-up paddle line!  Take one look at these classy rides and you'll be shredding or cruising in style.  Whether you're getting pitted on the Surf Betty or getting in touch with nature on the SUP, you'll be paddling...
4 tags
12 DAYS OF GIVING // THE NORTH FACE
Day 9: On the 9th Day of Giving B4BC gave to me…an ENTIRE line of The North Face x B4BC jackets and fleece! Get your mitts on these goods for some seriously good looking days on the mountain.  There are 8 styles to choose from so you can rock The North Face and support B4BC all day every day.  Get it here: ...
5 tags
12 DAYS OF GIVING // VOLCOM
DAY 9: On the 9th Day of Giving B4BC gave to me…Volcom snow gear!  This year the Volcom x B4BC line includes gloves, a jacket (as worn by Volcom/B4BC Team Rider Elena Hight) and a hoodie to keep you feelin tropical in the cold.   Get them here: Volcom Jacket:  http://www.zumiez.com/volcom-girls-b4bc-2013-clove-ins-snowboard-jacket.html Volcom gloves:...
6 tags
12 DAYS OF GIVING // VONZIPPER
DAY 8: On the 8th Day of Giving B4BC gave to me…VonZipper goggles!  Since one look at these goggles will convince you that you're ready for new goggles, take your pick between the Chakra (pink) or Beefy (blue) styles.  Rock these things on the slopes and we're pretty sure the crowds will part. Get them here: Chakra...
5 tags
B4BC PLAYLIST // HOLIDAY TUNES Need some sweet...
6 tags
12 DAYS OF GIVING // BILLABONG
DAY 7:  On the 7th Day of Giving B4BC gave to me…the B4BC HELLO tank from Billabong!  Keep it fresh in this flowy top that does all the talking.  Basically you're going to be looking good AND supporting B4BC, which is like that whole "have your cake and eat it too" thing.  Which sounds delicious. Snag one here in rose, white or...
10 tags
GIVING THANKS // Ride the Tide With Frank Alvarado
GIVING THANKS // Wanted to give a shout out to B4BC volunteer & friend Frank Alvarado. We met Frank 4 years ago when he joined us at our annual Skate the Lake event where he was pushing in honor of a friend who was losing her battle with breast cancer. Frank's been rolling as a part of the B4BC family ever since & has taken his volunteerism to the next level by hosting two annual events...
7 tags
12 DAYS OF GIVING // HAVOC x SAGE ERICKSON
DAY 6:  On the 6th Day of Giving B4BC gave to me…a custom designed Havoc Tee by B4BC Team Surfer Sage Erickson!  While her artwork usually ends up on her surfboards, Havoc was lucky enough to snag a design for a rad tee which benefits B4BC, available in both men's and women's! From the Havoc Cares site: DESCRIPTION The Havoc Cares t-shirt line officially launches with a...
9 tags
12 DAYS OF GIVING // NIXON
DAY 5:  On the 5th Day of Giving B4BC gave to me…the Nixon x B4BC Vega watch!  Lets be real, you want this on your wrist, like yesterday.  This one's a classic, and in HOT pink you'll look good AND feel good knowing a portion of the proceeds from the sale go straight to B4BC's education, prevention and support programs.   Guys, if you're still trying to figure out...
4 tags
PAUSE 4 PREVENTION // 5 Tips for a Stress-Free...
The holidays are for spending quality time with the people that you love, but for many of us, the holidays turn into the most stressful time of year. To help you get through, we've compiled 5-tips for a stress-free holiday… 1.     BREATHE // Deep breathing is one of the best ways to lower stress in the body.  Slow deep breathing can restore balance in your nervous system, which is impaired...
8 tags
12 DAYS OF GIVING // GNU B-PRO
Congrats to Kaitlyn Farrington for her win at Dew Tour this past weekend on her GNU B-Pro board! DAY 4: On the 4th Day of Giving B4BC gave to me…a GNU B-Pro board by Barrett Christy!  This is basically THE board to ride considering it sports the Transworld SNOWboarding Good Wood badge AND the Snowboarder Magazine Best of Test seal of approval.  And it has a unicorn on it.  If...
7 tags
12 DAYS OF GIVING // ELECTRIC VISUAL
On the 3rd Day of Giving B4BC gave to me…Electric goggles!  This year's design is just the right mix of sugar and spice with half camo, half roses for a sweet, sweet field of vision.   Design is available in EGK (kids), EG.5S (spherical), EG 2.5, and EG.5, all built for smaller mugs with lens' for days.  Take your pick here:  ELECTRIC VISUAL: B4BC
7 tags
B4BC's 12 Days of Giving // hellomellow
On the second day of giving B4BC gave to me…hellomellow Balance line!  Looking for the perfect gift that nurtures body AND soul?  hellomellow's Balance line not only gives the ideal combination of bergamot, chamomile and orange magic for the ultimate mood balancing act, but 5% of every purchase also goes to B4BC's Survivorship Fund. hellomellow founder, B4BC supporter and mind...
6 tags
B4BC's 12 Days of Giving
It's that time of the year!  Looking for something to gift this year that you can actually feel good about?  We are going to be highlighting B4BC collab products for the next 12 days in order to show you all the sweet gear you can rock while repping B4BC!  Check out the Boa x B4BC dials for your boots that'll keep you secure and shredding all season long: Get it...
4 tags
TASTY TUESDAY // Roasted Vegetable and Refried...
Photo credit: www.realsimple.com Looking for a delicious way to get your veggies in this winter?  These roasted vegetable tostadas will keep you satisfied with a spicy kick. Ingredients 10  ounces button mushrooms, trimmed and quartered 2  zucchini (about 1 pound), thinly sliced 2  red bell peppers, cut into 1 1/2-inch pieces 3  tablespoons olive oil Kosher salt 8  corn tortillas 1 ...
8 tags
WEEKEND PLAYLIST // Hana Beaman in INTERVALS B4BC...
18 tags
PAUSE 4 PREVENTION // Are You In Shredding Shape?
The snow is flying, but are you in "shredding shape"? Strength, balance, agility, and endurance are not only important in helping you improve your mad skills on the hill this season, but they're also important for preventing injuries.  Check out this great article from FitSugar to see what the pros are doing to improve and stay healthy on the...
5 tags
TASTY TUESDAY // Homemade Ontario Apple Chips
Crisp, oven baked apple chips with a hint of cinnamon-y-sweetness offer a nutritious solution for snack time to munch on by the fire while sipping a hot cider and warming up from a day on the snow. Portable, delicious and allergen free, these 'chips' are a great way to get a cancer-fighting crunchy fix.  A recent study by Cornell emphasizes the valuable, health-protecting role of phytochemicals...
6 tags
WEEKEND TUNES // Kimmy Fasani Playlist Get pumped...